Office Hours: Monday-Friday, 10:00am-3:00pm
Federal and Global Times (Alumni Newsletter):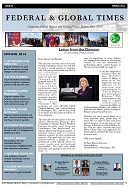 -Read our most up-to-date newsletter for Federal & Global Fellows alumni. Learn some incredible facts about the growth of our programs over the past 9 years; hear from alumni, current students, and faculty; and keep in touch with your peers.
Federal Fellows, our sister program, for other options including energy, health, and national security.
=======================================
-Gain international experience without leaving the country.
-Learn from the teaching and successes of expert practitioners in the field.
-Intern at international organizations, agencies, embassies, and more!
-Students who successfully complete program requirements will earn a Global Fellows DC Fellow notation on their transcript.